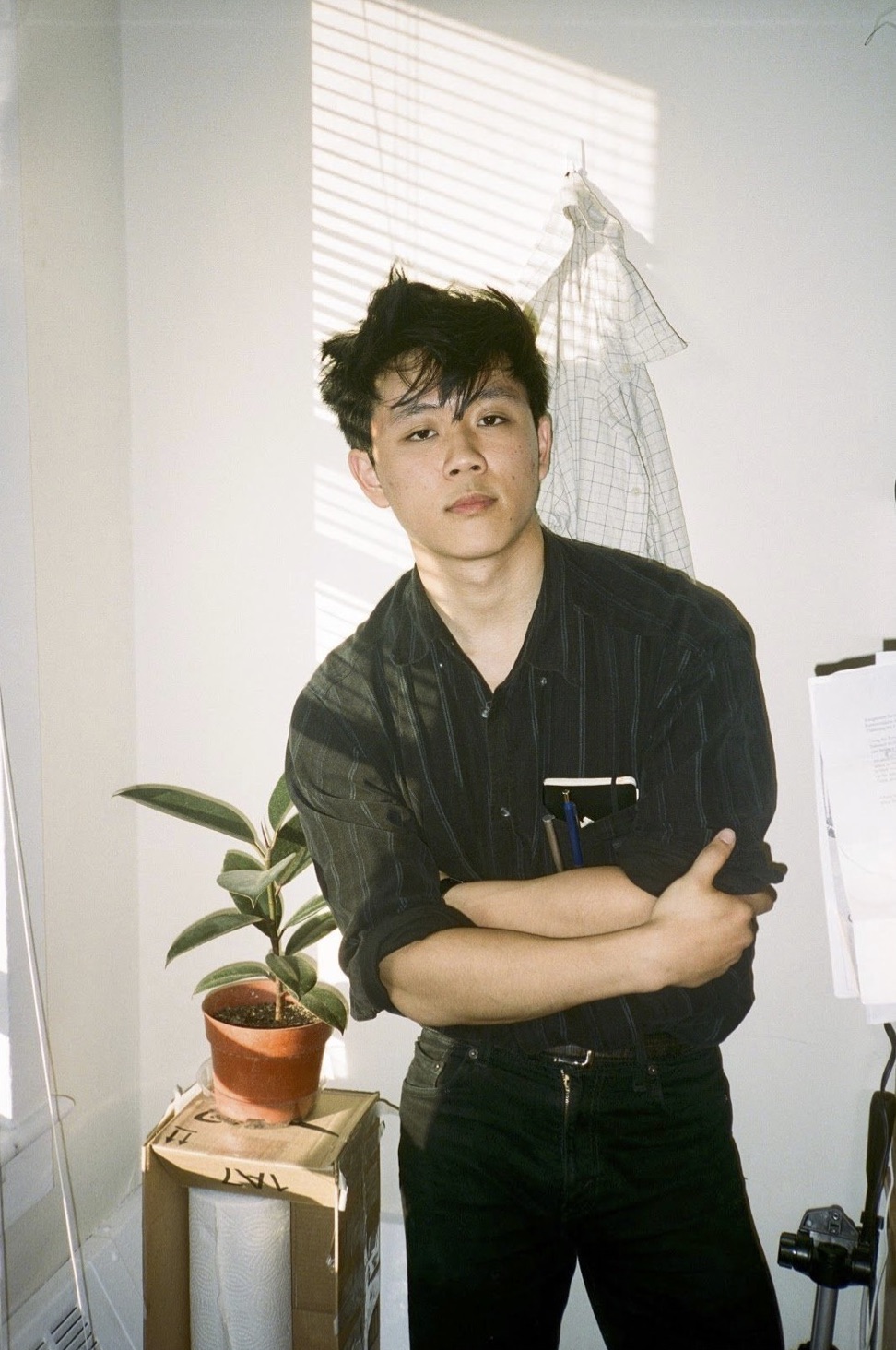 Photography by Maya Hertz
Interview by Mary Ma
Oscar is a first-year at Columbia College from Liverpool, England. He is a visual artist and musician, who has a diverse portfolio consisted of painting, photography, video work, and music. Oscar's portrait paintings strike me as incredibly vibrant, leaving a surreal first impression with their intense brushwork and dense layers. Impressionist in expression with a boldly fauvist use of colors, his paintings do not shy away from confronting the viewer with its subjects, often caught through a moment in time.We sat down on a Friday afternoon after his six-hour painting class to talked about art, music, and moving to New York.
How did you get into art?
I kind of just always did it and never stopped. I started with drawing Pokemon and things from manga and animes. Then I took art GCSEs, which are for British students from ages 13-16, they are like the end of examinations, a bit like APs in the U.S. And then I took art A level which was the next step, and from there I just kept going, and now I'm here.
How long does it take for you to make your paintings?
The portrait of my mum took probably over 100 hours. I spent a couple months on it, I would work 3 hours in school everyday, I can't remember if the math adds up but the number is up there... A lot of my paintings take a very long time, but I lose track of it in the process, so it's not bad.
Where do you work?
When I wasn't working at an art room in school, I would paint in this small spare room in my house. It was really small, but there was a window so I didn't suffocate. (Although I'm pretty sure I'm permanently damaged from staying in that room for so long). I painted in a very solitary manner, so it was kind of weird coming to Columbia and having a studio space where there are also others working. Recently I just bought a big f**k-off canvas that I stationed in my room so I can start painting in there.
What are your processes?
It depends on the piece, sometimes I'd just start painting without any kind of sketch. Sometimes I would use a photograph as a vision of what it's going to be. Or I'd make various sketches in my sketchbook, and then sketch on the canvas with a paint brush, using a thin-blue color. I always used really thick acrylic paint, especially with thick layers, acrylic is nice to work with because it dries really fast. Whereas for oil, it'd take a very long time. And I was never really taught how to use oil paint, honestly I didn't even know what turpentine was.
But now I'm only using oil! I'm kind of applying the acrylic process to oil... which is kind of stupid... But I do think that oil smells better, and it feels better to use. It's natural and buttery. Let's just say I would eat oil but I wouldn't eat acrylic.
Does your photography and painting overlap?
Not really. Any kind of artistic expression I have comes out through the most conducive path that leads me to where I want to go. Sometimes it'd be photographs, sometimes its paintings, sometimes music. I would say they all come from the same source, but I wouldn't say they interfere with each other that much. When I take a photograph, I see it as a completed art piece I've made, and there is a reason why I haven't painted that, because it only works well as a photograph. Like action shots or the feeling of being in the moment, that's mainly expressed through photography, it wouldn't be the same thing painted. Paintings are more conceptual.
How do you choose your subjects?
A lot of them are my friends. I choose subjects that are meaningful to me. Some of them are just acquaintances, people that I'm friendly with but wouldn't want them over in my house, (maybe for two hours max). For example the portrait of Adam was from my prom. After the event, we were all in an apartment and it was just a bunch of teenagers getting wildly pissed. For a moment he sat there on the couch and dozed off, so I shot of photo of him and painted it. I don't know him that well but that was an interesting moment. I try to be friends with interesting people.
Favorite color?
Ultra-marine. It's an electric-y, other-worldly blue. It's a blue that is not found in nature, and blue is almost everywhere. But ultra marine is very rare. I use it a lot in my paintings.
If you could talk to one artist living or dead, who would it be and what would you talk about?
Van Gogh. I'd try to make him happier, and give him some really unqualified therapy. He was a very troubled man, I don't like the idea that he was a great artist because he was sad, because he was depressed. If he were happy, if he lived to a ripe old age, we would have seen so much more stuff, he would have had such a happier life. He always tried to find happiness and beauty in his work. And I very much regret the fact that he died and I wish he were alive today.
Why use film?
I just took my dad's old film camera that used to be his most expensive possession when he first moved to England, even though now the value has depreciated. When I was first experimenting with it, I found it to be a lot better than digital cameras. It feels more wholesome to use, not to shade on contemporary trends of photography. With digital cameras, you can get a really good saturation of images. You can take 20 photos of the same thing and try to pick the best, but they'd look exactly identical besides a bit of difference, that seems like a waste of time to me. It's an information overload.
If you can only consume one artistic medium for the rest of your life, what would it be?
Visuals. it's an awful question to ask because it's asking which sense would I want to lose the least. That's so sad.
What's behind your song "holy one"?
It's suppose to be a love song. It's about idolizing someone almost like a religious figure, but it's also sarcastic because of how forward it is. Most of my songs have a lot of meaning and are very personal. Not for the "holy one" though, I've never been in love.
What genre of music would you say it is?
I think indie. I don't purposefully stick to one genre. But now I'm moving into hip-hop and jazz. Everyone at Columbia plays jazz!
How do you find the art scene here differing from home?
There are so many crazy, hilarious, and weird looking people walking down the streets and in the subway. It's great, and very inspiring. Back home, if you are really into art, you will most likely try to move to London. The art scene in my city was not very present, but I've done a few exhibitions and met some really cool artists. It's been a shift for me moving here. I'm very happy that I ended up here even though it wasn't on the top of my list. (Then he throws shade at Yale, his first choice).
How do you see social media as a platform for artists?
Definitely a useful platform. If you are an artist in this generation, you need social media. Most of the recognition I've gotten is through social media, like magazine features etc. I think the best thing about it is that it enables people to bypass the standard and traditional path of getting a BFA, MA, and working your way up. Social media very much depends on networking. Instagram enables everyone to network, to meet other artists, and get to know them and their work. With social media, and the internet, everything is also much more accelerated. Even for 12, 13 year olds, they know things like feminism, social justice, racism. And I didn't know any of that when I was 12 or 13, WTF? We are in the age of information, and I think all the information made available is incredibly liberating.